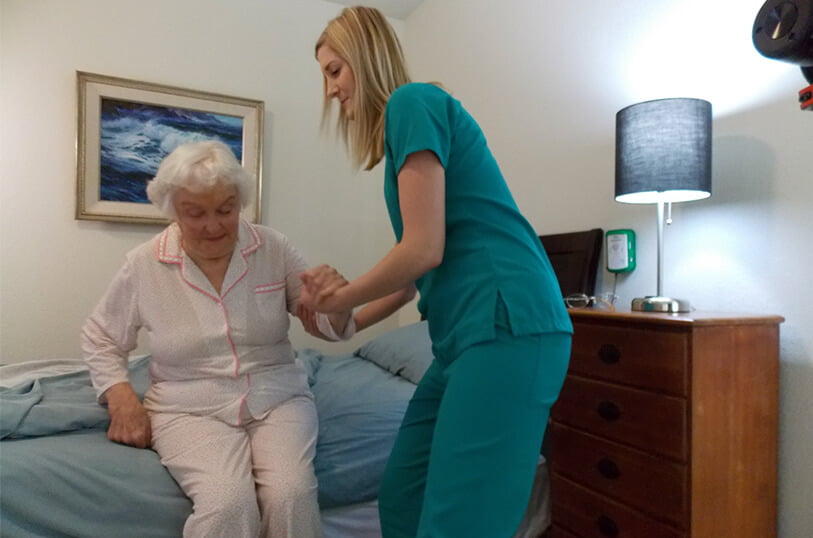 Am I a Caregiver? There are over 65 million Americans who are taking care of their loved ones, with many not even considering themselves to be a caregiver. We previously discussed the misconceptions of caregivers and showed the prevalence of family caregivers in our modern society.
This may lead you to question whether you yourself are considered a caregiver or not. There are two simple questions to ask yourself and help determine if you are someone who fits within the role of a caregiver:
Are you concerned about the health and well-being of an elderly or vulnerable person?
Have you been helping an elderly or vulnerable person with daily tasks?
If you answered yes to both questions, then it is highly likely that you fit the definition of a caregiver.
Recently, Jeff Foxworthy and Peter Rosenberger got together during national caregiver's month in November to discuss what makes someone a caregiver. There are many factors that can play a role into how to determine a caregiver, from being on first name terms with the hospital security guard; to remembering your parents social security number over your own!
8 Signs That Indicate You May be a Caregiver
Here at Val-U-Care, we will list the 8 major signs to look out for to determine if you, or someone you know, is a caregiver.
Sign 1: Spending time with your loved one every day
You may not realize it, but just spending a couple of hours a day with your loved one can be classified as caregiving. Rather than simply going to visit and catch up, you end up visiting every day to ensure they are ok and daily tasks are completed.
One of the most significant problems when caregiving for an elderly or vulnerable individual is to ensure their safety and to minimize the risk of falling. To help make sure your loved one reduces their risk of falling or wandering you can implement certain safety measures, such as fall prevention or exit alarms. This will also make your caregiving life a lot easier by providing you with an early alert to assist them before a potentially hazardous event occurs. This would be extremely beneficial for your caregiving life and give you time to focus on chores and, more importantly, time to relax and recharge.
Sign 2: Cleaning or Maintaining Household Duties
The everyday tasks that you do with little or no exertion, can provide great difficulty for the more vulnerable or elderly individuals. They may have trouble doing the simple tasks of cleaning or modifying their house. As a caregiver, you help around the home and complete these tasks for them, giving them little to worry about when it comes to the upkeep of their home.
Sign 3: Cooking Food for Them
As their caregiver, you provide cooked meals for them and ensure they do not go hungry. It may seem simple to many people, but the idea of making a meal can be a big hassle and an extremely daunting task. Those suffering from dementia or Alzheimer's may even forget to eat without your reminders. You may find yourself cooking their meals for them and organizing their food in a way that makes it easy for them to heat and eat – minimizing all the additional steps in between. This basic task may seem like just helping a loved one but is a clear sign that you are becoming a caregiver.
Sign 4: Running Errands
When it comes to running errands for your loved ones, do you do their shopping or run to the post office to send some mail while they stay home? If you find yourself doing these tasks it can be important to understand that you fit the profile of a caregiver. Weekly shopping can become a difficult task for vulnerable and elderly people. The difficulty of navigating their way to the supermarket and walking around for long periods of time may reduce their number of shopping trips. As a caregiver you take it upon yourself to ensure there is always enough food in the house so if they are hungry then they can find something to eat.
Sign 5: Maintaining their personal care and hygiene
For an elderly or vulnerable person performing daily activities such as showering and getting ready for the day can become extremely challenging. The elderly can find it increasingly difficult to maintain their personal hygiene, struggling to get up, and looking after themselves properly. You may find yourself laying out their clothes for them the night before or helping them shower so you can help reduce the risk of them falling or injuring themselves.
It is important for caregivers to reduce the weight they feel upon their shoulders. So, fitting a Caregiver Call System for their home will ultimately allow you minimize stress and tailor the system specifically for your requirements. This may be bed or chair sensor pads, motion sensor, or a cordLess floor mat. Every little detail is extremely important to both the caregiver and vulnerable or elderly individual to provide comfort knowing that they are safe.
Sign 6: Taking your loved one to-and-from the doctors
Multiple doctors' visits are a regular occurrence when you are a caregiver. It can be a long, tiresome day and you may sometimes think you spend more time at the doctor's office than you do at home. Ultimately, this is a job role that you take without really understanding the full implications of the position. Your unconditional love is displayed through the way you would do anything for them and whatever it takes to get them better or make their life a little easier. Having to do this on the odd occasion may seem normal, but once it becomes a monthly or even weekly occurrence, it is another sign that you are a caregiver
Sign 7: Paying their Bills and Sorting their Mail
This is particularly relevant for your elderly loved ones that simply forget about paying any bills that they owe or sorting through their mail for important documents. Older people are also often targeted by con artists, so it is vital to check their finances – looking out for important letters, overdrawn bank accounts and any unpaid bills. Without realizing, you are a caregiver helping them to cope with the financial obligations of life.
Sign 8: Ensuring Medication is taken
Lastly, and possibly the most significant sign, is ensuring that your loved one has taken all required medication at the correct times and in the right dosage. If they forget, it could potentially be fatal. As their caregiver, it is crucial that you make this your priority, particularly for elderly individuals as it can be a daunting task. Without realizing, you as their caregiver have taken up a very important role and this can put a huge burden on your shoulders.
If These 8 Signs Sound All Too Familiar – You Are a Caregiver
There are many duties that a caregiver undertakes without realizing and it is important to understand that, by definition, you are a caregiver. Many resources can help with this, the AARP can help caregivers deal with the challenges of taking care of your loved ones and most importantly, how to take care of yourself. There is an AARP Caregiving Community, Facebook group and Support Line to help navigate your role as a caregiver.
It is important to recognize that your role as a caregiver really matters and your efforts are appreciated. The realization that you are a caregiver can be scary at first but once you are aware of your role, you can take steps to make your life easier.
From daily aids to full caregiver call systems, Val-U-Care is here to help YOU as a caregiver. For more information, contact us today at 888-662-3304 and let us help you design the perfect system that works for you and your loved one.